With this new mixtape we wanna bring to your attention a new artist, King Tappa.
A talented youth, well versatile and able to write clever lyrics. He can easily cover every style from ballads to soca, thru conscious new roots vibes and hardcore dancehall style.
Make sure you visit King Tappa Myspace to be update to all the latest!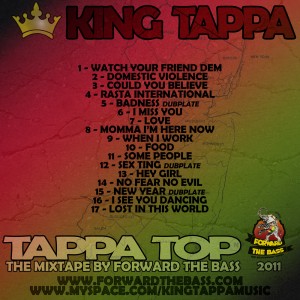 FORWARD THE BASS – TAPPA TOP – THE MIXTAPE
1 – Watch your friend dem
2 – Domestic violence
3 – Could you believe
4 – Rasta international
5 – Badness dubplate
6 – I miss you
7 – Love
8 – Momma I'm here now
9 – When I work
10 – Food
11 – Some people
12 – Sex ting dubplate
13 – Hey girl
14 – No fear no evil
15 – New year dubplate
16 – I see you dancing
17 – Lost in this world
BIO
His performing name is King Tappa but he was born Kurt Prince, in 1979. Kurt grew up in Marigot and attended the Wills Strathmore Stevens Primary School up to the age of 10. He left Dominica in 1989 for St. Croix. In 1992, he moved from St.Croix and now makes his home in New Jersey. Music has always been a big part of his family. Kurt remembers singing and free styling at the age of 14 and four years later, it comes as no surprise that he decided to take music seriously. Beginning as a DJ Kurt established Powersound and went by the name of DJ Tappa. As a DJ he got the opportunity to perform at many venues within the tristate area and even outside the United States. His performances outside of the United States include: St. Croix, Linstead, Jamaica, Bermuda and Dominica to mention a few. The highlight of his DJ career so far has been performing with Stone Love at Da Culture Lounge Fredrick stead, St.Croix US.VI 2005 Inspired by international Reggae artists such as Steel Pulse, Beres Hammond, Culture, Gregory Isaac, Capleton and Morgan Heritage he began writing and moved on to singing. Going now by the name King Tappa he released his premiere album "When I Work" in 2007. King Tappa was able to give an unforgettable performance back in his homeland performing with the likes of Tanya Stevens and Gyptian. His premiere album "When I Work" has given King Tappa to score performances alongside artists like Da'Ville. King Tappa has written over 100 songs and has done excessive amounts of dub plates and jingles for many different sound systems. He is currently working on his sophomore album which does not have a definite release date but in the meantime he is putting out single tracks that are being given numerous amounts of air play on international radio stations. His work is one to look out for since not only does he sing and DJ but he is also a song writer. Aside from his love for music Kurt "King Tappa" Prince is the President of Project Book Bag which is designed to assist students on the Island of Dominica by making meaningful contributions of school supplies on a yearly basis. Look out for King Tappa as he may very well be the next big thing.